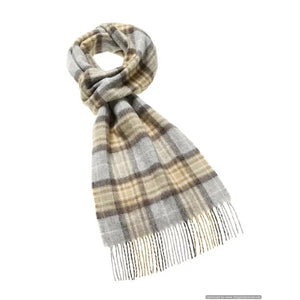 These 100% Merino Lambswool scarves are both super-soft and warm, yet timeless in
design with traditional patterns that have been handed down through many generations of Scottish
ancestry.

Approx Size incl. fringe 10" x 75" (w x l)

This product is manufactured by Abraham Moon & Sons Ltd who have been producing quality
wool products at their mill in Yorkshire, England since 1837. This is one of the last remaining vertical
mills in England and it has been operating since the end of the Industrial Revolution.They are World
Leaders in dyeing, spinning, weaving, blending and finishing, producing beautiful products that you can
cherish for a lifetime.