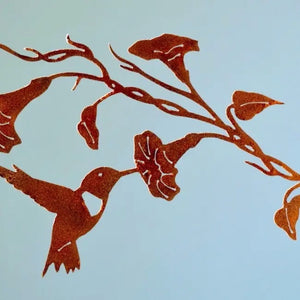 When you view our hummingbird on morning glory metal artwork, you can
almost feel the energy and hear the buzzing noise of a hummingbird in flight,
feeding on a beautiful flower blossom. This intricately and realistically designed
silhouette is the perfect accent for a nature-inspired space.

The hummingbird on morning glory metal garden art is made of recycled steel and pre-treated to create our signature rusted texture and natural look. It would be
a gorgeous accent in any nature-inspired interior space or installed along a windowsill or
post on your porch. It also makes a wonderful gift for a hummingbird lover!

Dimensions: 9" tall x 11.5" wide.