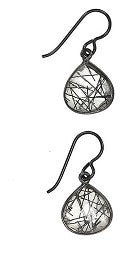 A created black rutilated quartz, is set in
oxidized silver bezel to give it the darkened appearance.
A versatile piece to take you from day to evening.
The chain is made of rhodium plated sterling silver.
From top of wire to bottom of stone, 1 1/18 in in length.
Handmade in the US.