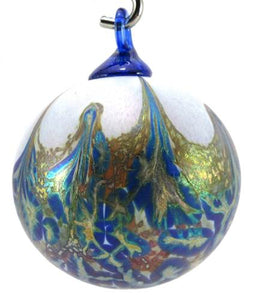 The Alchemy Line of ornaments captrues the magical
qualities of hand blown glass. By melting small chunks of colored glass,
then the colors are "raked"at different points on the ornament, which
add movement to the overall ornament.

The Regal White and Blue ornament, features a crisp white top and
a patteremed base of rich cobalt blue and bronzy gold.
Approxiamte diameter 3.25 in
Handmade in the US.