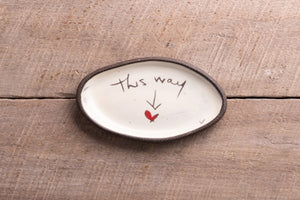 This lovely mini oval tray has been hand built and inscribed by the artist! It fits in the palm of your hand...you can use it as a soap dish or spoon rest, to enjoy some hors d'oeuvres, or to hold your jewelry, keys or coins.
Measures 5 inches long x 3 inches wide.
Microwave, oven and dishwasher safe.
Each is handmade and will vary slightly.